Some links included here may be affiliate links, meaning we may earn a small monetary bonus from referring you to them. In no way does this increase the price you pay.
If you're looking to get into freelancing, or need some other ideas on how you can use your skills to make money online outside of a full-time job, this list is going to help you get going and make some money online.
Building a freelance business is a great way to get more flexibility, and live the lifestyle you've always dreamed of.
The Best Freelance Business Ideas
I've broken these freelance business ideas down by category to make it easier for you to find something that relates to your experience. Without further ado, here are some of the best freelance business ideas out there today.
Writing & Editing
Freelance writing has exploded over the last few years. With more and more people building their own businesses, the need for unique content has grown with it.
Here are some creative ways you can use your writing skills to make extra money.
1. Copywriting
Copywriting is kind of an overarching term for creating the numerous types of copy businesses need these days.
There are all kinds of ways you can help someone revamp their messaging online to help drive more sales and show their business in the best light online.
2. Freelance Writing
Online business owners of all kinds of industries need help from freelance writers to create content for their websites, social media, and even e-books. You don't need to live in the same area as the business either.
Business
Technology
Finance
Law and Legal
Marketing
Lifestyle
Medical and Health
Knowing a little SEO can help get you clients as a writer.
3. Written Word Translator
Businesses need people to translate articles, presentations, and all kinds of other types of copy. If you are fluent in multiple languages and understand proper grammar, this could be the gig for you.
While the internet has gotten a lot more advanced with an automated translator, for professional businesses, there is nothing in comparison to someone who can do this with skill.
4. Proofreader or Copy Editor
Copy editing and proofreading are about taking someone's writing and finding errors, correcting grammar, punctuation, and spelling.
If you're looking to get started as a proofreader, the Proofread Anywhere course is a great course to help jumpstart your success.
5. Blog Editor
Large blogs don't just need writers, they need someone to edit them and stay on top of their content calendar. If you're a great editor and can work quickly, this could be a great opportunity to for a freelance job idea,
6. Resume Writer
Not everyone is great at writing cover letters, resumes, and CVs and talking highly about themselves and why they qualify for a job.
With the state of the world, this is a skill that a lot of people are looking for help with.
7. LinkedIn Profile Optimization
Another task people need help with when getting a job or trying to get more clients is optimization their LinkedIn profiles.
You need more than an updated profile to get a job these days, and knowing how to rebrand a LinkedIn profile and make it shine is highly sought after.
8. Ad Copy
If a business is running paid traffic, they're going to need great copy to go along with the images and videos they are running traffic to.
I know from experience that many of the people running ads aren't great at actually coming up with compelling copy for a headline and description in their ads.
9. Social Media Copy
Coming up with a great spin on a topic that isn't necessarily the sexiest thing on the internet is super difficult. If you're good at creating Facebook and other social posts that perform well, this could be a great option for you.
If you are that person, go ahead and email me because I have yet to find someone who is great at this to refer my clients to!
10. Email Copy
Email marketing is not dead. And neither is the need for someone who can write compelling emails.
11. Sales Copy
Landing pages, sales pages, and other pieces of a sales funnel need great copy to help move visitors along. But not everyone is great at doing this, so there is a huge need for people to help set up launch sequences, email autoresponders, and more.
12. Case Studies
A big piece of getting new clients is showcasing what successes you've had with past clients, but you can just put numbers on a page and call it a day.
I had a friend help me write case studies in the past because while I'm good at paid advertising, I'm terrible at promoting myself.
13. Product Descriptions
E-commerce brands need to create a lot of compelling product descriptions that help get visitors to click through and purchase their products.
If you can quickly write super interesting descriptions (some people find this fun!), you can get a lot of work from larger e-commerce brands who have this need.
14. Legal Writer
While there are a lot of writers in the world, there are not a lot of writers who understand legalese and the nuances that go into those documents.
This stuff makes my eyes glaze over. But if it excites you and you have experience with both of those fields, you can earn quite a good living doing this.
15. Transcription
As a transcriptionist, you take audio or video recordings and turn them into the written word. These can be recordings of meetings, lectures, conversations, or even court cases.
If you want to get started with transcription, this course can be super helpful.
16. Ghostwriting
Did you know that LOTS of bestselling books on the internet are written by ghostwriters?
17. Academic Writer
Similar to legal writing, not everyone has experience and skill in those more technical fields, so being an academic writer is a very niche skill.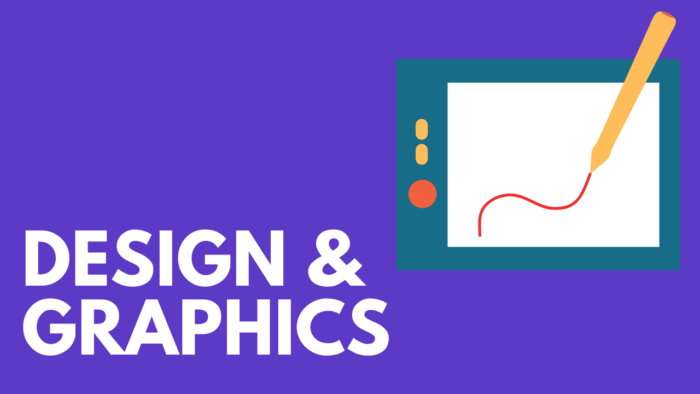 Design & Graphics
Graphic designers are in demand all over the place. Here are just some business ideas you can use to get started in this industry.
18. Logo Creator
Creating logos is something that isn't going away anytime soon. Not only do small businesses need logos, but even products themselves get new logos.
Sure, people can use something like Canva to create (or attempt to create) their own logos, but companies who want a great brand to go to market with aren't going to go that route. They're going to look for a talented designer who can create their next logo.
19. Photo Editing
While most people can take a photo, many are not great at making that photo look professional and/or cropping out elements or changing out the backgrounds.
20. General Graphic Design
Graphic designers create visuals and creative elements with computer software (like Adobe Photoshop and InDesign), and often use some hand-drawn elements as well. Some of these might include brochures, graphics for ads, magazines, presentations, and reports.
21. Infographic Creator
Infographics help represent data in a way that isn't….well, a boring chart or graph. They incorporate data and statistics that a company might have with exciting images and create a story of sorts with it.
Businesses and bloggers love these kinds of graphics because they make their content way more exciting than just words on a page.
22. Book Cover Designs
Books aren't going away anytime soon, and so the ability to create engaging book covers is becoming even more necessary.
You can't just put the words on the cover and throw an interesting image on it anymore. With so many books out there, people need to stand out, and that's where a great book cover designer comes in.
23. T-Shirt Designer
People love being able to show off their Star Wars knowledge, or their favorite childhood TV shows (Hey Spongebob!) on their apparel.
But designing a T-shirt is not as simple as it seems. You have to know what the latest trends are, understand how your design will look on different body types, and keep up with new techniques like sublimation printing to make sure you're using the best methods possible.
So T-Shirt designers are necessary for companies who sell lots of designs to their customers.
24. CAD/Architecture Designs
A freelance CAD designer develops models for clients and uses computer-aided design software to create technical drawings that show all proper technical specifications for a project.
If you took a few classes in college that you never thought you'd use again, this might change your mind 🙂
25. Cartoonist
Cartoons are coming back with a VENGEANCE. People want to create multiple types of content that aren't just normal images and videos.
For people who don't want to get on camera, or need to explain their product or service with something other than a "talking head" video, these can be a great option.
26. Ad Designer
This one is closer to the Mad Men characters than it is your typical Facebook ad creator. These aren't just digital ads either, they can include billboards, TV ads, and other "traditional" ads.
Ad designers often help come up with a compelling strategy while also creating memorable visuals using a slogan or catchphrase.
27. Print Designer
Knowing the specifics about print design is VERY different from graphic design. There is still a big demand for print designers, and especially contractors or freelancers as small businesses are a little less excited to hire full-time employees.
28. Video Game Designer
Momma always said those video games would melt your brain but did she know that the industry would explode and you could be making a very healthy 6-figures from building them?
Sorry mom, but this one can be a serious career if you want it to be.
Software & Web Development
The internet and computers are not going away anytime soon. There are tons of ways you can make money from helping others create web applications, build websites, and program software.
29. Web Development
There are TONS of different kinds of web development you can get into as a freelancer. These can be front end or back end development, that can include CSS, Javascript, WordPress development, server-side languages, and more.
30. Plugin Developer
People who have online businesses often have great ideas for plugins, or some kind of tool that will make their processes easier. But most of those people are not able to create these themselves.
31. App Developer
Everyone wants an app these days. While there are some tools that help people do this without a technology background, many businesses will want to hire a professional to build their mobile apps.
32. WordPress Developer
Helping people develop programs for their websites can bring in a lot of money. These skills aren't held by everyone, so there is a lot of work to go around. Building custom websites or fixing issues can be a huge market.
Digital Marketing Freelancing
Digital marketing in my opinion is the best way to earn money online if you have skills and the desire to learn.
33. Marketing Copywriter
Help businesses write copy for:
Landing pages
Sales pages
Launch sequences
Email autoresponders
Digital advertising
Print advertising
And on and on
34. Lead Generation
Small businesses, especially local businesses, are always looking for new leads. You can help drive those if you have marketing skills. You can get paid to drive phone calls, form submissions, email subscribers, and more.
35. Paid Advertising
I've made multiple six figures with this one so I know it's a quality option. Every business needs some kind of digital marketing component, and that's where you come in.
This can include helping business owners with things like:
Facebook Ads
Google Ads
YouTube Ads
Other Social Media Marketing
There are so many more, but these are some of the more common ones.
36. Social Media Manager
Businesses who want to be active on multiple social media accounts need help. If you're great at creating engaging content on social media and helping build an online presence, this could be a great business idea.
37. Email Marketing Manager
Do you have a knack for getting high open rates and building out successful email marketing campaigns? As businesses grow, their founders need help staying on top of their campaigns and driving more leads and sales for the business.
38. SEO (Search Engine Optimization)
If you have experience with search engine optimization (i.e. SEO) you can help others who don't understand it quite as well.
39. Public Relations (PR)
Are you great at writing press releases and/or helping get the word out about businesses?
PR isn't just about using HARO anymore. If you're well-connected and can come up with creative ways to help brands get more visibility, this is a great option.
40. Market Research
Companies need to be doing market research. While smaller businesses usually put this by the wayside, medium sized businesses know this is critical, and some of them don't want to hire full-time employees for this role either.
41. Brand Consultant
Branding is a huge industry, and if you're good at brand strategy, design, storytelling, and being a project manager, this can be a great place for you to start.
42. Content Marketing & Strategy
Content is king, right? Well, people need help coming up with content calendars, creating content, and promoting that content to the right audience.
43. Become a Virtual Assistant
Being a virtual assistant can be a great way to start making money online with a freelance business.
Business owners are always looking for help to make their lives easier. Here is a list of common virtual assistant ideas you can get started with:
Bookkeeping
Social media management
Calendar and email management
Marketing
Appointment scheduling
Translation
Managing websites
There are TONS of ideas here, but most virtual assistant gigs are ongoing repetitive tasks that a CEO can no longer handle within their typical workload.
Video
44. YouTube Editor
The number of people creating YouTube channels is exploding. This means more competition to get your videos to show up, which means your videos need to be slightly more polished than they needed to be back in 2014.
Video editors are commanding a high rate, (especially if you're among the best!) so this one should come as no surprise.
45. Videographer
46. Wedding Videographer
Not all business is done online. The wedding industry is booming, and even though the pandemic has made it hard for people to have their full "dream wedding", this means that capturing the moment is even more special for those who can't be there in person.
47. 3D Product Animation
E-commerce brands want their product to shine, and what better way to do that than to show off an awesome animation?
Photography
48. Stock Photography
You can get paid for all of those seemingly random pictures you take. Submitting your photos to stock photography websites can be a great way to get exposure and make a little extra money.
49. Event/Wedding Photographer
Weddings aren't going away, and with the crazy situation we're in now, a lot of people aren't able to make it to the actual event. This means that capturing the moment is even more special for those not there in person.
50. Family/Portrait Photography
Great with kids? Know how to use a camera well? This could be a great freelance business for you to start.
51. Product Photography
Companies with online stores need to showcase their products somehow. If you have skills with making products look "sexy" and compelling, this could be a great gig for you.
Audio & Sound
52. Podcast Editor
Editing audio is not the simplest thing in the world. And most podcast creators don't want to spend hours getting rid of their "uhm's and uh's" to make their episode sound professional.
53. Voice Over Artist
I doubt you realize it, but most Television ads utilize a voice over artist. Same goes for radio, podcasts, and other audio and video platforms. If you have a "voice for radio", you just need a great microphone and some soundproofing and you can get started with this.
54. Podcast Advertising
Radio DJs have done it for years, and podcasts are the next radio. This market is going to continue to grow, and you can help. You can record ads, write ads, sell ads, and help people get sponsorships.
55. Audio Translator
With podcasts and videos exploding, the bigger names are going to want to start getting their content out to people who don't speak English. This can be a big opportunity if done right.
56. Audiobook Recorder
There are so many audiobooks hitting the market, it makes sense that you can build a freelance business around recording these for authors who don't have the time or patience to get this done.
57. Impersonations
People love impersonations. If this is your skill, you can absolutely make some money with this.
58. Songwriting
YouTubers, DJs, music producers – they all want original songs and beats that they can use in their content.
59. Teach Online Music Lessons
Have music skills and love helping others get better? You can teach music lessons, or put together online courses on how to get started playing guitar or which chords they should learn first. With everyone at home, they are looking to level up and this can be a great way to get them going.
There are tons of freelance business ideas you can choose from, so this list will never be complete. There are always new freelance business ideas coming out, you just have to get creative about how you can use your talents.
How to Get Started Freelancing
You may have found a great idea from the list above, now what?
Being able to find clients is a big sticking point for many freelance business owners, especially when you're just starting your freelance career.
I've put together a free guide to help you get started freelancing, you can grab it below.