Some links included here may be affiliate links, meaning we may earn a small monetary bonus from referring you to them. In no way does this increase the price you pay.
Audiobooks are a great way to entertain or educate yourself. With the rise of mobile devices, it has become increasingly easy to listen to audiobooks on the go.
I listen to a TON of podcasts and audiobooks while I'm working, walking, or just around the house doing other things. Arguably, the ability to listen to learn on the go cut the time it took for me to quit my job in half.
Many services offer audiobook subscriptions where you can get access for a low monthly subscription fee and download a book for every credit you have.
There are also free options for getting audiobooks from libraries, but there are some drawbacks.
Here are some of the top options for audiobook subscriptions you can become a member of.
I'm sure you've heard of this one since it's owned by Amazon.
If you're an Amazon Prime user, this is going to be the best audiobook subscription for you. It integrates well with the Prime ecosystem, as you would expect, and you get a lot of extra features as well.
Audible comes with audiobooks, but also podcasts, and Audible originals, which are like stories, podcasts, and even audiobooks that are native to the Audible platform that you can't listen to anywhere else.
Audible
The audiobook subscription service most think of first, Audible is kind of like the gold standard of audiobooks, because they offer all kinds of great content:
Audible Originals
Audiobooks
Podcasts
You can grab a free trial for 30 days to try out using the button below.
Each month you get a number of credits you can use towards purchasing books. They often run specials where you can get 2 audiobooks for just one credit.
You can use their car mode to make the buttons larger so you aren't distracted while driving and listening. They also include a sleep timer so you can fall asleep listening to audiobooks or podcasts, but know you aren't missing too much.
Audible memberships make great gifts for the people in your life you want to share books with. If you're pay for Kindle Unlimited, you can generally get audiobooks through that as well, so I'd make sure to check that audiobook library so you're not paying double for some titles you want to read.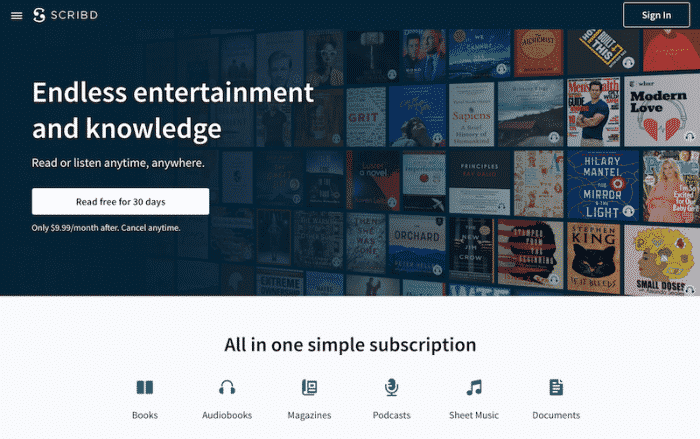 Scribd is pretty different from most of the other audiobook subscriptions on this list. Not only do they offer audiobooks and some podcasts, but you can view regular books, magazines, sheet music, and some documents that are uploaded to Scribd.
The documents thing threw me off at first, but if you look closer you can get access to all kinds of business templates, academic papers, marketing case studies, project proposals, and even some college course papers and study guides.
It's pretty freaking cool I'm not going to lie.
The best part about Scribd is you get unlimited access to all of those kinds of content. Whereas with Audible you get a certain number of credits each month, with Scribd you get all of the things for one price.
Scribd
Scribd is in a league of its own in terms of usefulness. They give you unlimited access to all kinds of file types:
Audiobooks
Podcasts
Magazines
Books
Documents, Business Templates & Academic Papers
Sheet Music
However, you don't get to keep those books when you cancel. With Audible those books are yours forever, but if you cancel Scribd then you lose access.
They have apps for both iOS and Android / Google Play.
Scribd offers a free 30-day 60-Day trial (they've upped the trial for Hustle to Startup readers) so you can try it out and see if you like it before you pay to join their audiobook subscription.
Blinkist distills audiobooks into short 15-minute episodes to help you get the most important learnings from the book, without having to spend hours listening to the entire thing.
I love using this for picking up quick tips, and deciding if I actually want to spend time listening to the entire audiobook.
Blinkist
Blinkist shortens audiobooks into 15 minute episodes that contain only the most important takeaways from the book.
This allows you to understand the major concepts of the book, and decide if its worth listening to the whole book, or moving onto another audiobook.
That way I can save myself some time (and annoyance) of taking the time to download and entire book, listen to an hour or so of it, and then realize I wasn't into it. While this still happens if I can't stand the voice of the person, Blinkist has decreased the likelihood of that happening.
You can get a free 7-day trial of Blinkist so you can test it out before committing to a subscription.
Apple sells audiobooks as well, but its not a full membership with a subscription fee. You can buy one-off audiobooks as you want, however the prices are a little higher than you will find with an audiobook subscription like Audible or Scribd.
You do get to keep the book which is nice, so you can listen to it again (if you're one of those people).
Another subscription option to check out is Audiobooks.com. This site is similar to Audible, but you don't have to give Amazon any more money.
With Audiobooks.com you get almost the same audiobook library of content Audible offers (minus the Audible Originals, of course), have the same pricing ($14.95 per month) and both allow you to listen from anywhere with their mobile apps.
Audiobooks.com does have a pretty cool feature that Audible does not have though – Audiobook Clubs. When you join an audiobook Club, you get unlimited listening to any of the books in that club, for the same price (1 credit) as you would purchasing a single book.
Audiobooks.com
Audiobooks.com is like Audible, but if you're sick of giving Amazon money, then this is a great option.
They offer 200,000+ premium titles to choose from, and you get 3 free audiobooks using the link below.
For example, you can join the "Best of Business" club and listen to any of the audiobooks in that group for an entire month. You spend one credit but get access to a ton of books for that month.
You get 3 free books and a 30-day free trial as a member.
Free Audiobook Sites
There are also some free sites that allow you to listen to audiobooks. Some of these are put on through local libraries, while some are independently hosted.
You will need a library card for a lot of these services, but that should be pretty simple to get.
6. Librivox
Librivox is an audiobook site that lets you listen to all of the public domain books for free. Public domain means that there are no intellectual property rights that apply. This happens when those rights expire, are forfeited, waived or no longer applicable.
There are a ton of popular books and other types of content that are now public domain. Librivox curates those and has volunteers that read the books.
Here is how Librivox explains it:
LibriVox volunteers record chapters of books in the public domain, and then we release the audio files back onto the net for free. All our audio is in the public domain, so you may use it for whatever purpose you wish.
While there are only public domain books available on Librivox, that is still a HUGE library of options for you to listen to.
7. Libby by Overdrive
This is one of the more popular audiobook options available through local libraries.
I used to love this option, and still do, but I just find that having everything in one place was easier.
With Libby, there are books where you'll need to wait in line to download them. For example, when Michelle Obama's book came out a few years ago, there were like 98 people in line ahead of me before I could listen to it. That kind of line can take months to get through.
At that point, it might be worthwhile to buy it through Audible, or sign up for Scribd so you can listen to it right away.
But again, these books are FREE. So, I need to shut up and deal 🙂
Is there an unlimited audiobook service?
Yes! That would be Scribd – you can listen to as many audiobooks as you want and you'll still pay the same monthly subscription fee of around $10. That option blows Audible out of the water.
What is the best audiobook subscription service to become a member of?
That's going to come down to personal preference. Some people prefer to go with Audible because it lets you keep the books even after you stop paying for the subscription. But if you listen to a lot of books each month, it might be worth getting an unlimited subscription like Scribd.

Or if you're like most millennials and Gen Z'ers, you want everything right now, and Blinkist might be the best bet because you get the entire crux of the book in 15 minutes or less.
Audiobook Subscriptions for the Win
Audiobooks are a great way to combine the convenience of technology with the pleasure of storytelling. Whether you're driving, exercising or cleaning your house, audiobooks provide entertainment that doesn't require any special accessories beyond your smartphone (or other device).
Audiobooks can be better than reading a physical book because instead of staring at words on paper all day long you get to listen to them on the go. This enables you to do other things (like gardening or working on client projects) while listening and gives you more time for other things like work or spending time with family and friends.